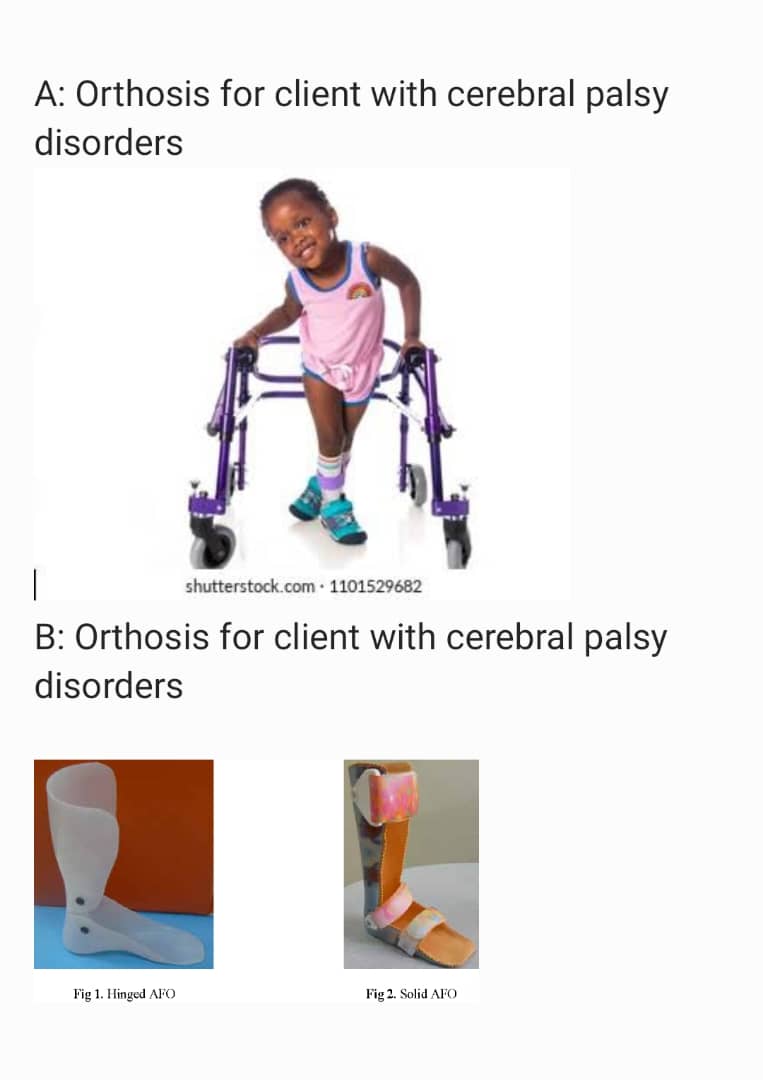 Introduction
Cerebral palsy is described as a group of movement disorders that appear in early childhood. The signs and symptoms vary among people and over time, however, it includes poor coordination, stiff muscles, weak muscles, and tremors. It is caused by abnormal development or damage to the parts of the brain that control movement, balance, and posture.

In an attempt to provide a clear understanding (Rosenbaum et al., 2007) described the pathology as having the following reflections; the motor disorder of CP is often accompanied by disturbance of sensation, perception, cognition, communication, and behavior. Epilepsy and secondary musculoskeletal problems.
It is estimated that the prevalence of Cerebral Palsy (CP) in developed countries is 2 – 2.5 per 1,000 children (Oskoui, et al., 2013). The prevalence has been suggested to be higher in developing countries (Donald et al., 2014). The number of children with CP is not known, however, WHO estimates that it is likely that one child in every 300 will have CP. This is because the maternity services are often quite poor and mothers do not get enough care before and during the birth of the child.
The orthotics intervention is meant to improve the gait pattern and its efficiency which is based on the unavoidable influence of the plantar-flexion, and knee extension moment generated at the ankle and knee joint respectively. This principle of force application influences the ankle-foot and knee joint interaction in maintaining the Ground Reaction Force (GRF) in front of the knee during the stance phase. This can be achieved by fitting the client with an orthosis to effect optimal sitting, standing, and walking without needing to use their hands.
Course Aim
This course is designed to equip trainees with the knowledge and skills to fabricate and fit an orthosis for a cerebral palsy client independently.
Course objectives
To train participants on designing concepts, principles and methods of fabricating Ankle Foot Orthosis (AFO) and Knee Ankle Foot Orthosis (KAFO) and its application to the individual Cerebral Palsy Client (CPC)
Learning Outcomes
Carry out a visual and physical assessment for a Cerebral Palsy Client (CPC)
Demonstrate an understanding of measurement transfer of Ankle Foot Orthosis (AFO) and Knee Ankle Foot Orthosis (KAFO) negative cast
Design an image of AFO and KAFO on an orthosis negative cast viewed from both frontal, transverse, and sagittal plane
Rectify an AFO and KAFO positive cast
Demonstrate the moulding/lamination process of an AFO and KAFO
Fabricate an AFO and KAFO
Fit an AFO and KAFO
Analyze the fitting of an AFO and KAFO
Expected competence after taking the course
Acquire knowledge and skills in fabricating an AFO and KAFO
Assess static and dynamic changes achieved as compared to the initial status without an AFO and KAFO
Analyze structural and functional quality achieved when an AFO and KAFO are assembled following a contemporary or hybrid technology
Credits: 35.5
Instructional methods
The course will be in English and is a Blended Learning Course whereby students will be attending scheduled lectures online and there will be PowerPoint presentations, notes of the session, quizzes, and video presentations for a step-by-step demonstration of carrying out specific clinical and practical procedures. The participants will come to the college during the first and last week of face-face practical sessions.
Who can apply:
This course is for Prosthetists/Orthotist working in different Prosthetics & Orthotics Centres/departments within and outside the country. It is also for all those who are working in private centers supported by religious organizations or NGOs. All those who will be eligible for the course must at least have their Desktops or Laptops Computers.
Dates and duration: THREE MONTHS (3)
Hours: 355.5 Hrs for three months
Place: KCMUCo
Course Fees 1,750,000/=
This fee will cover the cost of course material, which will be made available to all participants during presentations of individual sessions. Also, it will be used to purchase consumables required for the fabrication of AFO and KAFO during the two weeks face-face workshop.
Organizers:
This course has been organized by KCMUCo, Department of Prosthetics & Orthotics, Faculty of Rehabilitation Medicine, and Umweltzentrum (UWZ)
Coordinator of Short Courses: Ms. A. Menuka
Facilitators:
Anatomy & Physiology: 25 Hrs Ms. S. Tinkasimile
Pathology: 30 Hrs Mrs. A. Menuka
Biomechanics: 30 Hrs Mrs. E. Kombe
Clinic/Practical Procedures: 216 Hrs Ms. S. Tinkasimile, Mrs. H. Mranga. Mrs. A. Menuka, Mrs. E. Kombe
Group Presentations/Discussions: 6 Hrs Ms. A. Menuka, Mrs. E. Kombe
Scheduled Time: 17th July 2023 up to 13th October 2023
All applications including CV and application letter should be sent to asterya.casmir@gmail.com before (June 2023)