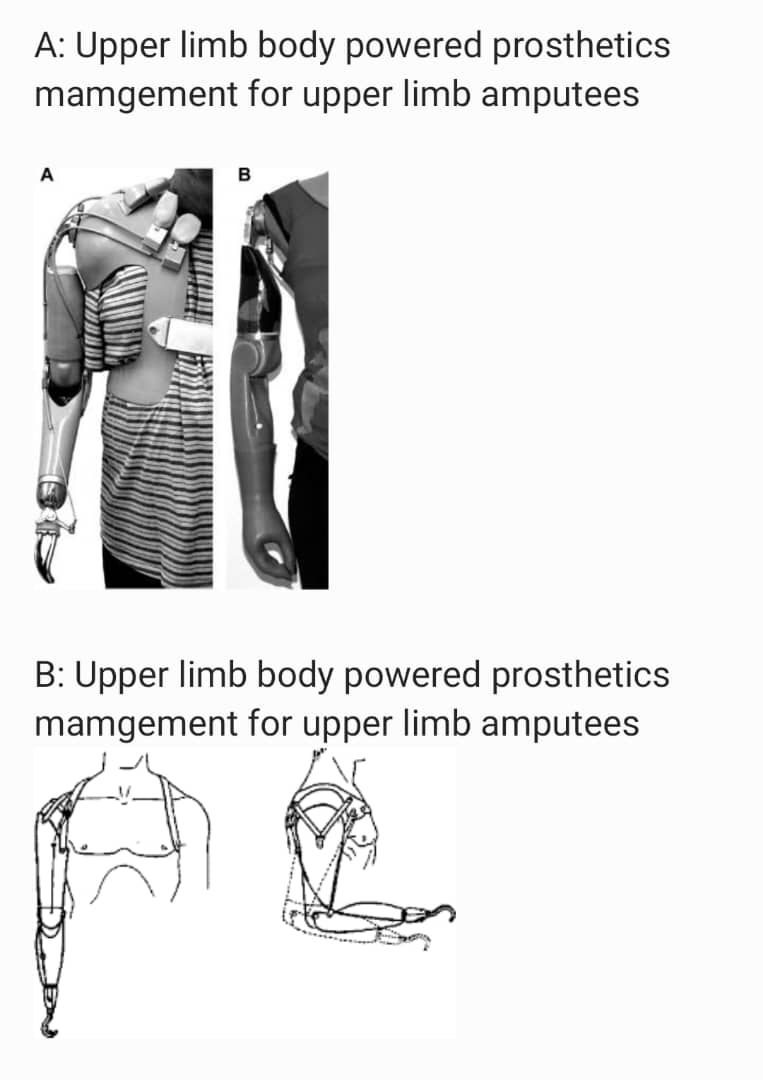 Introduction
In developing countries, upper limb amputees have had very low priority in availing and adopting the rehabilitation technological approaches of assistive mobility devices. The challenges which are most often faced are the required knowledge and skills to fit a prosthesis that provides the desired function, comfort, cosmesis and thereby elevating the quality of life.
 
The body-powered are described as those upper limb prostheses which function or work by using cables to link the movement of the body to the prosthesis and to control it. Any movement of the shoulder girdle, spine, and upper limb stump will influence an external force to pull the cable and cause the joint or terminal device to open, close, flex, extend or cause any desired movement in the transverse, sagittal or frontal plane. The body-powered terminal devices may either be hooks or mechanical hands. They can be voluntary openings in which the device remains closed until a pull on the cable opens them. Relaxing closes the TD around an object with a grip force determined by a pre-set resistance) or voluntary closing (the device remains open until pulling on the cable closes it with a grip force proportional to the amount of force the person puts on the cable).
Course Aim
This course is designed to equip the trainee with the knowledge and skills to design a socket assemble, align and fit it with its components to enable an upper limb amputee to attain cosmesis, and symmetry and perform specific functions to optimize his/her quality of life.
Course objectives
To train participants on designing concepts, principles, and methods of fabricating and fitting an upper limb amputee with an Upper Limb Body Powered Prosthesis.
Learning Outcomes
Carry out a visual and physical assessment of an upper limb amputee
Demonstrate an understanding of measurement transfer of a negative cast for an upper limb amputee
Design an image of the Upper Limb Socket (ULS) on a negative cast viewed from both frontal, transverse and sagittal plane
Rectify an upper limb amputee positive cast
Demonstrate the molding/lamination process of a ULS
Fit a ULS
Demonstrate the assembling of Upper Limb Body Powered Prosthesis (ULBPP)
Carry out the static and dynamic alignment of ULBPP
Expected competence after taking the course
Acquire knowledge and skills in fabricating a ULBPP
Assess static and dynamic changes achieved as compared to the initial status without a ULBPP
Analyse structural and functional quality achieved when a ULBPP is assembled following a hybrid technology
Credits: 35.6
Instructional methods
The course will be in English and is a Blended Learning Course whereby students will be attending scheduled lectures online and there will be powerpoint presentations, notes of the session, quizzes and video presentations for a step-by-step demonstration of carrying out specific clinical and practical procedures. The participants will come to the college for the first and last weeks of face-face practical sessions.
Who can apply:
This course is for a Prosthetist/Orthotist working in different Prosthetics & Orthotics Centres/departments within and outside the country. It is also for all those who are working in private centers supported by religious organizations or NGOs. All those who will be eligible for the course must at least have their Desktops or Laptops Computers.
Dates and duration: THREE MONTHS (3)
Hours: 355.5 Hrs for three months
Place: KCMUCo
Course Fees 2,600,000/=
This fee will cover the cost of course material, which will be made available to all participants during presentations of individual sessions. Also, it will be used to purchase consumables required for the fabrication of ULBPP during the two weeks face-face workshop.
Organizers:
This course has been organized by KCMUCo, Department of Prosthetics & Orthotics, Faculty of Rehabilitation Medicine, and Umweltzentrum (UWZ)
Coordinator of Short Courses: Ms. A. Menuka
Facilitators:
Anatomy & Physiology: 25 Hrs Ms. S. Tinkasimile
Pathology: 30 Hrs Mrs. A. Menuka
Biomechanics: 30 Hrs Mrs. E. Kombe
Clinic/Practical Procedures: 216 Hrs Ms. S. Tinkasimile, Mrs. H. Mranga. Mrs. A. Menuka, Mrs. E. Kombe
Group Presentations/Discussions: 6 Hrs Ms. A. Menuka, Mrs. E. Kombe
Scheduled Time: 15th January 2024 up to 12th April 2024
All applications including CV and application letter should be sent to asterya.casmir@gmail.com before (02nd March 2023)