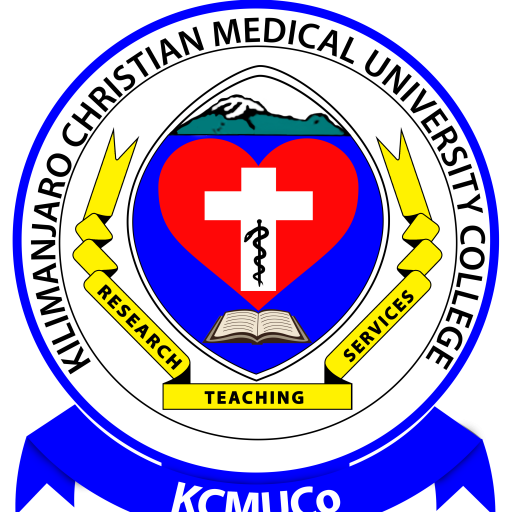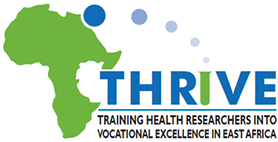 About Thrive:
THRiVE 2, is a consortium of African and European institutions led by Makerere University. It includes 3 Universities (KCMUCo, Gulu University, and Makerere University), 3 research institutes (ICIPE in Kenya, UVRI in Uganda, NIMR in Tanzania), and 2 Northern Universities (LSHTM and Oxford Universities).
THRiVE-2 program started in March 2016 and will end in February 2021.
THRiVE-2 mission ''is to empower African Institutions to become Research Engines for Health Innovations and Evidence-based Healthcare Practices and Policies''.
THRiVE-2 program is a capacity-building program. At KCMUCo/Tanzania THRiVE-2 supports; 5 PhDs, 2 Postdocs, 5 research masters grant, and 5 intern graduates. It also offers Career Development Awards in a competitive manner, and KCMUCo/ KCMC has 4 awardees in this category.
THRiVE-2 consortium Funders: Wellcome Trust and AESA.
I: PhDs Fellows Research Topics:
Robert Kaaya [KCMUCo/ LSHTM]: The influence of Pfhrp-II gene polymorphism and sub-microscopic parasitemia on mRDT performance in heterogeneous transmission settings towards malaria pre-elimination in Tanzania.
Mary Mosha [KCMUCo/ LSHTM]: Understanding modifiable factors associated with childhood overweight and obesity in Tanzanian primary schools: establishing a foundation for evidence-based obesity prevention intervention.
Dr. Rune Philemon [KCMUCo/ LSHTM]: Influence of exposure to previous PMTCT guidelines and challenges to adherence to feeding recommendations among HIV positive women using option B+ for PMTCT in Kilimanjaro.
Dr. Denna Michael [KCMUCo/ NIMR/ LSHTM]: Effects of HIV infection and ART use on fertility amongst women of reproductive age in Magu District, Tanzania: 1994 – 2018.
Dr. Ruby D. Mcharo [KCMUCo/ NIMR]: Sexually Transmitted Infections and Sexual Behaviour among Young Adults attending Higher Learning Institutions in the Mbeya region, Tanzania.
Tirzah Tigoy [KCMUCo/ ICIPE]: Improving malaria transmission-blocking potency through structural modification compounds isolated from Star weed (Parthenium hysterophorus).
Joel Odero [KCMUCo/ ICIPE]: Zoonotic tick-borne pathogens within nomadic pastoral systems in selected counties of northern Kenya.
Post-Doctoral Fellows Research Topics:
Dr. Jovin Kitau [KCMUCo]: Pyrethroid-PBO impregnated blankets for control of malaria in humanitarian emergencies.
Dr. Irene Kiwelu [KCMUCo]: HIV-1 drug resistance mutations and associated risk factors among patients failing first and second-line treatment failure in Kilimanjaro region, Tanzania.
II: Masters Grant_ ongoing and fellows who have completed:
Dr. Annete Baine [MMed Pediatrics_ 2017/18]: Immediate outcomes of preterm babies presenting with respiratory distress syndrome treated with bubble-crap compared to oxygen at KCMC
Dr. Oregeness Mbwambo [MMed Urology_2017/18]: Single, double or multiple doses of antibiotic prophylaxis in the transurethral reaction of prostate patients: RCT among catheterized urology patients at KCMC from August 2017 – February 2018
Shabani Mziray [MSc MIMM_ 2018/19]: Characterization of HIV-1 in patients failing to respond to first-line antiretroviral therapy in Moshi municipality.
Dr. Denis Katundu [MMed ENT_ 2019/20]: Tonsilar microbes, their antibiotics sensitivity, and effect of amoxicillin on the reduction of infection, carriage, and co-morbidities among patients undergoing tonsillectomy in northern Tanzania.
III: Career Development Awardees:
Dr. Michael J. Mahande [IPH_2017/18]: Barriers and facilitators for modern contraceptive use among women of reproductive age in Ushirombo district, North-Western Tanzania: a mixed-method study in preparation for intervention.
Beatrice Leyaro [IPH_2017/18]: Strengthening menstrual hygiene research across East Africa.
Dr. Hadija Semvua [Pharmacy 2019/2020]: The effect of diabetes mellitus on the pharmacokinetics of first-line TB drugs in the first 2 months of intensive TB treatment. the
Dr. Eusebious Maro [Obstetrics & Gynaecology_2019/2020]: Magnitude of infertility-related health-seeking behavior and psychosocial effects among couples in northern, Tanzania.
IV: Intern Grant Awardees:
Judges Tibelerwa [IPH_2017/18]: Skilled Birth Attendance use in Mbeya region, Tanzania
PUBLICATIONS
1. Mcharo, R. et al. on "Developing capacity for health research ethics review and medicines regulation: lessons from an audit of research ethics committees."
2. Kweyamba PA, Zofou D, Efange N, Assob JN, Kitau J, Nyindo M. (2019) In vitro and in vivo studies on the anti-malarial activity of Commiphora Africana and Dichrostachys cinerea used by the Maasai in Arusha region, Tanzania. Malaria Journal, 18(1):119.
3. Ng'ida FD, Kotoroi GL, Mwangi R, Mabelele MM, Kitau J, Mahande MJ (2019) Knowledge and practices on breast cancer detection and associated challenges among women aged 35 years and above in Tanzania: a case in Morogoro Rural District. Breast Cancer: Targets and Therapy 11:191–197.
4. Saleh FH, Kitau J, Konradsen F, Abassi R and Schiøler KL Habitat diversity, spatial-temporal distribution and abundance of immature Aedes aegypti (Diptera: Culicidae) in the Urban and Rural areas of Zanzibar, Tanzania. (Submitted)
5. Japhary MM, Mgode GF, Mhamphi GG, Kiwelu I, Athaide I, Rana A, Whitbread M, Machang'u RS (2019). Leptospirosis in sugarcane plantation workers and fishing community. PLOS Neglected Tropical Diseases, 2019 (Manuscript accepted 08 February 2019).